Beauty & Self
Books & Music
Career
Computers
Education
Family
Food & Wine
Health & Fitness
Hobbies & Crafts
Home & Garden
Money
News & Politics
Relationships
Religion & Spirituality
Sports
Travel & Culture
TV & Movies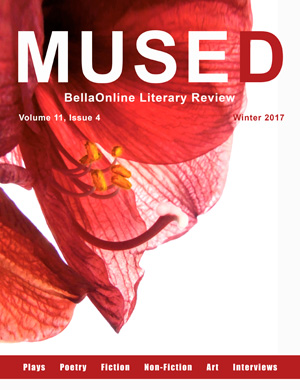 We all travel on this blue-green ball around our very own star each year, sliding a little closer, sliding a bit further away. The balance is critical. Too much closer and we'd roast. Too much further away and we'd freeze.

We should be aware of just how blessed we are that our Earth is "just right" - and do what we can to keep our world healthy. It's the only one we have.

Enjoy the Mused Winter Solstice 2017 Issue



Cowichan Sweaters
Knitting - Korie Beth Brown, Ph.D., Editor

Thick, warm, and pleasantly woolly, the Cowichan sweater was originally designed by members of this Coast Salish tribe. Enjoy this summary of the design's origins.




Illusion in Art - Dreams + Trompe l'Oeil
Art Appreciation - Camille Gizzarelli, Editor

Sigmund Freud said the unconscious is represented in dreams. The Surrealists pioneered this maverick movement which led to trompe l'oeil in fine art and street art. I'll discuss their influences.




Pressure Cooker Spicy Black-Eyed Peas Recipe
Quick Cooking - Karen Hancock, Editor

Got 30 Minutes. These yummy cold-weather Black-Eyed Peas can be made quickly and are warming and good. Make sure you serve them with cornbread for a southern comfort-food experience.




Caring for Ethnic Skin With Essential Oils
Ethnic Beauty - Juliette Samuel, Editor

Essential oils can bring great results when used in caring for ethnic skin. Here are a few to consider when you begin your journey to great looking skin.




Scent Trails and The Beauty of Their Essence
Fragrance - Juliette Samuel, Editor

Scents, whether they're from perfumes, room sprays, diffusers or oil blends have a way leaving a scent trail. Have you ever left a pleasant scent trail as you moved through a crowd?




European AstroFest 2018 - Space Missions
Astronomy - Mona Evans, Editor

For two days there was no need for a telescope to view the Universe, though you might have decided to buy one for later on. The Universe came to London in the form of European AstroFest – all under one roof in the Kensington Conference and Events Centre. Here is Part 1 of some highlights.


| Google+ |
E D I T O R R E C O M M E N D E D
Pinnacle Car Care


The Creme De La Creme of Ultimate Car Care is In the House! Using Pinnacle´s product line is like a visit to the salon and the results--magnifique!
Giada´s Kitchen


In this book each recipe is a burst of taste, colors and combination of flavors; the instructions are really easy to follow for anyone, and the final result of virtually every dish is presented in a beautiful arrangement of photographs.
Paradise in Plain Sight


Paradise in Plain Sight: Lessons from a Zen Garden by Zen Priest Karen Maezen Miller, is both memoir and Zen guide. Maezen Miller shares experiences repairing and tending a historical Japanese garden in her own backyard, guiding the reader towards direct insight. It is beautifully written, honest, and relevant to the modern seeker of any faith.