Beauty & Self
Books & Music
Career
Computers
Education
Family
Food & Wine
Health & Fitness
Hobbies & Crafts
Home & Garden
Money
News & Politics
Relationships
Religion & Spirituality
Sports
Travel & Culture
TV & Movies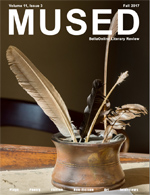 Autumn is a season for counting our blessings. For realizing just how much we have in life where so many others are without. It can often be easy to take things for granted. Things which millions of people desperately dream of having. By pausing for a moment, and looking around with mindfulness, we can find a new center. Begin with fresh energy.

Enjoy the Mused Autumn Equinox 2017 Issue



Sew a Clothespin Doll
Sewing - Cheryl Ellex, Editor

Of all the delightful things to handcraft or sew as ornaments clothespin dolls will surely bring a smile as they hang serenely with festive candy canes, jolly Santas, and smiling snowmen on a decorated holiday tree.




Routine Cleaning for Company Clean Results
Cleaning - Tammy Judd, Editor

Cleaning for company doesn't have to be stressful. If you keep in mind a few helpful tricks that will make cleaning even easier, it will be even faster!




Skin Care Tips for Winter
Cosmetics - Katrina Simmons, Editor

Winter can be gorgeous. It can also be extremely cold which does a number on the skin and lips. Keep reading to find out how you can stand out in the crowd and look completely unbothered by the harsh weather.




Stamp Collecting Now
Stamps - Gary Eggleston, Editor

Obviously the first step is to acquire stamps. Many beginning collectors hardly pay for anything when they're just starting to build a collection. Talk to your friends and family and colleagues in the office and simply tell them you'd like to have their stamps if they don't want them.




Coin Pricing
Coin Collecting - Gary Eggleston, Editor

This isn't always an easy question to answer since a coin's value can be subjective. In general, like anything else, a coin is "worth" what someone is willing to pay for it. There are some factors that potential buyers will take into consideration when deciding how much to pay for a coin.




Review - Adobe Spark
Digital Art and Design - Diane Cipollo, Editor

Adobe Spark was released last year. It's a combination of a web app and three mobile apps, for DIY graphic design for social posts, mini webpages, video and much more. With the cloud, your projects are available on both the web platform and the mobile apps.


| Google+ |
E D I T O R R E C O M M E N D E D
Suzanne Somers´ Eat Great, Lose Weight


No one knows the struggle of dieting and weight loss better than Suzanne Somers. Through experimentation and countless consultations with physicians, she lays out a fool proof plan on how to eat great food and still lose weight.
Best Sweepstakes Newsletter Subscription


Best Sweepstakes is an excellent way to keep up on the latest sweeps and contests via online, snail mail and text entry. It´s been around for years and is a trusted newsletter among sweepstakers.
MS Window 7 Home Upgrade


The newest and best operating system from Microsoft - Windows 7. Install for yourself and have a new computing experience.