Beauty & Self
Books & Music
Career
Computers
Education
Family
Food & Wine
Health & Fitness
Hobbies & Crafts
Home & Garden
Money
News & Politics
Relationships
Religion & Spirituality
Sports
Travel & Culture
TV & Movies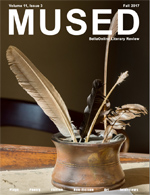 Autumn is a season for counting our blessings. For realizing just how much we have in life where so many others are without. It can often be easy to take things for granted. Things which millions of people desperately dream of having. By pausing for a moment, and looking around with mindfulness, we can find a new center. Begin with fresh energy.

Enjoy the Mused Autumn Equinox 2017 Issue



DIY Floor Cleaners
Cleaning - Tammy Judd, Editor

Do it yourself floor cleaners can help save you time and money. From hardwood to laminate floor, I've got you covered!




The Dinner Plan Cookbook Review
Quick Cooking - Karen Hancock, Editor

Rarely does a cookbook come out that is written for those of us who are too busy to cook, but love good food. This one is definitely recommended and will keep you cooking new, easy, innovative dishes for months.




Different Types of Makeup Brushes
Cosmetics - Katrina Simmons, Editor

Break out a pencil and pad because it's time for Makeup Brush 101. This article will tell you everything you need to know about makeup brushes. It covers everything from synthetic vs. natural to which brush is for what.




List of Magic Tree House Books
Children's Books - Launa Stout, Editor

List of Magic Tree House books. Enjoy time with Annie and Jack traveling to the past or the future.




Joys Of Collecting Stamps
Stamps - Gary Eggleston, Editor

Philately, or the study of stamps, is a huge field of study that has captured the attention of many Americans over the years. This fascination with stamps and the history that surrounds them has led to a hobby related to philately, which is collecting stamps.




How To Find Collectible Coins
Coin Collecting - Gary Eggleston, Editor

Coin collecting was started only as a hobby for most people, however you can hear what other people say (or you probably have heard yourself) about news of people cashing in on their old coin; and that encouraged more people to go on a coin-collecting streak. If you are one of those people who want


| Google+ |
E D I T O R R E C O M M E N D E D
Best Sweepstakes Newsletter Subscription


Best Sweepstakes is an excellent way to keep up on the latest sweeps and contests via online, snail mail and text entry. Itīs been around for years and is a trusted newsletter among sweepstakers.
Original Cat Design Products


From Cafepress - Purchase a wide varity of quality products, from t-shirts to magnets, tote bags to mugs and much more, with this original cat design, created by the editor of the Cats Site.