Beauty & Self
Books & Music
Career
Computers
Education
Family
Food & Wine
Health & Fitness
Hobbies & Crafts
Home & Garden
Money
News & Politics
Relationships
Religion & Spirituality
Sports
Travel & Culture
TV & Movies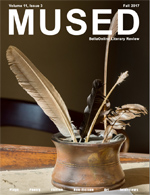 Autumn is a season for counting our blessings. For realizing just how much we have in life where so many others are without. It can often be easy to take things for granted. Things which millions of people desperately dream of having. By pausing for a moment, and looking around with mindfulness, we can find a new center. Begin with fresh energy.

Enjoy the Mused Autumn Equinox 2017 Issue



Beef Wraps with Peanut Sauce Recipe
Sandwiches - Connie Mistler Davidson, Editor

Beef Wraps with Peanut Sauce Recipe is a tasty way to use small amounts of meat in a hearty wrap with lots of veggies. The sauce is so delicious that I had a hard time not licking the bowl! Your friends and family will love these!




5 Cruise Cabin Secrets For Your Next Cruise
Cruises - Nancy Schretter, Editor

Cruise vacationers want their stateroom to provide all the comforts of home and plenty of storage space. In addition, they want to get the finest stateroom they can afford at a great price. Here are five insider tips for landing the best cruise cabin and making it as comfortable as possible.




Choosing Home Fragrances For Every Room
Fragrance - Juliette Samuel, Editor

Looking to add depth to a space in your house? Set the right mood in a room, perhaps? There's nothing like finding the perfect scent to do so. Here are a few tips and scents to help you add fragrance to your space.




Finding Tranquility in Your Bathroom
Ethnic Beauty - Juliette Samuel, Editor

If you're looking for a way to wind down and have some quality time for yourself, how about creating an In Home Spa Oasis. Here are a few tips and techniques.




Squirming and Fidgets with ADD
Attention Deficit Disorder - Connie Mistler Davidson, Editor

Some teachers think that a squirming child is a lazy, bored, and unfocused child. NOT true! Those teachers need to be educated about this ADD research from UCF! These children are moving with a purpose; they are doing what they need to do to facilitate their learning. Let them move!




Southern Rose Ranch French Toast
Senior Travel - Hazel M. Freeman, Editor

Treat that special someone to a morning breakfast they'll remember for a long time. From the small Texas town of Chappell Hill, you'll find the Southern Rose Ranch Bed and Breakfast. Here's their recipe for Strawberry Custard French Toast.


| Google+ |
E D I T O R R E C O M M E N D E D
From Pain to Parenthood


Follow one womanīs incredible and heartfelt journey from the pain of miscarriages to the joy of becoming a parent through adoption. Filled with honest, raw emotions and helpful coping tips, "From Pain to Parenthood" promises to touch your life with a real story that shows the power of the human spirit and the beauty of a motherīs love.
Itīs An Animalīs Life


Shopping is fun at Itīs An Animalīs Life. When youīre looking for the perfect animal gift, look no further.
TomTom ONE 130s GPS


Looking for a great GPS unit for your car? The TomTom ONE 130s is a great, moderately priced GPS system with text to speech capabilities. Spoken street names and TomTomīs EasyPort mounting system make this a terrific GPS unit!