Beauty & Self
Books & Music
Career
Computers
Education
Family
Food & Wine
Health & Fitness
Hobbies & Crafts
Home & Garden
Money
News & Politics
Relationships
Religion & Spirituality
Sports
Travel & Culture
TV & Movies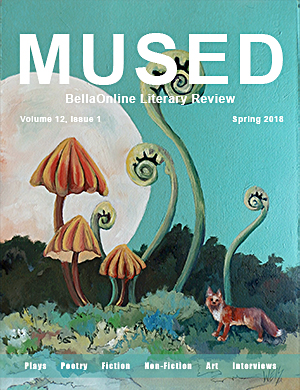 It can seem sometimes as if our world is whirling faster than we can keep up with. It can become overwhelming. Exhausting.

A balm which rejuvenates is to explore the creative efforts of individuals around us. To begin, turn off the noise and clatter of the world at large. Take a deep breath and instead focus on connecting with one fellow human being who presents their jewel of a thought to you. Examine it mindfully. Consider its meaning. Soak in the moment with this one human. Then connect with another. And another.

Enjoy the Mused Spring Equinox 2018 Issue



Are Some Recasts Movie Mistakes?
Movie Mistakes - Isla Grey, Editor

Some of our favorite movie characters have been recast by other actors and actresses through the years. Which recasts were movie mistakes?




Improve Fertility With A Mediterranean Diet
Infertility - Hannah Calef, Editor

A Mediterranean diet has been proven to boost fertility, learn how to adapt your diet to a more Mediterranean style to boost your fertility naturally




Scandal - The Final Season
Prime Time TV - Maria Brown, Editor

After six long seasons, Scandal (produced by Shonda Rhimes) is concluding with it's seventh season. We have seen Olivia at her best and her worse.




Decision Points are Key to Great Productivity
Life Coaching - Leah Mullen, Editor

Don't know what to do next on your long to-do list? Author of Two Awesome Hours offers advice on how to choose wisely for best results




The Three Deaths of Magdalene Lynton Book Review
Suspense / Thriller Books - Karen Hancock, Editor

Set in New Zealand, this new series is fascinating. Although Magdelene Lynton died almost 40 years prior, the facts don't add up and Ngaire Blakes investigates what really happened.




What is Victoria Day?
Crafts for Kids - Launa Stout, Editor

In Canada, on the Monday before May 25th each year there is a celebration. This holiday is to celebrate the birthday of Queen Victoria who was born on May 24, 1819.


| Google+ |
E D I T O R R E C O M M E N D E D
Investing $10K in 2015


Have you received a windfall or inheritance? Confused how to manage it? Many people find the subject of investing to be complex. It doesnīt have to be. You can manage your money yourself.
Living Language Spanish


You donīt need to know Spanish to travel to the Southwest USA, but it will enhance your experience. This is the best-selling Spanish language instruction product at Amazon.com.
Easy Spanish Step-By-Step


Easy Spanish Step by Step offers grammar basics, clearly explained in order of importance, and numerous exercises and engaging readings.